Happy Wednesday! Once again the week seems to have gotten away from me. Can anyone else believe it's
December?!
In one day shy of a month I will be
thirty
and in a little over a month my babies will be
two
. Talk about time flying.
So, I've been pretty crafty lately. A lot of it is designing decorations for the Bambinos party but Tuesday night I went to Target for paper towels and finally found the clear glass ornaments I'd been looking for which set me off on a mission for all the other supplies I'd need to replicate these DIY ornaments I found on
Pinterest
. Isn't that how it always happens?
First, gather your supplies:
Floor wax - I guess Pledge works just as well and it's probably cheaper. Mine was about $5 at Lowe's
Clear Glass Ornaments - $6 for 9 at Target
Glitter - $4 each at Joanne's. I thought these would take more glitter than they do so buy the smaller $2 bottle unless you have a ton to make.
Start with clear ornaments.
Carefully take the top off your ornament. I thought this would be more difficult than it was.
Pour some floor wax in the ornament. I ended up using waaaayyyy too much in each one. It really doesn't take that much to coat the inside.
Some tutorials say not to shake it because you'll get bubbles but I didn't read any tutorials before I did this - it's really that easy....and I didn't seem to have any bubbling issues.
I covered the hole and shook.
Again, the tutorials say to pour the excess wax back into your bottle. I poured the glitter right in with the excess wax.
Then you cover the hole at the top and shake again.
And you're done. The glitter coats pretty well and looks like a mini disco ball on the tree (especially the silver ones.) I love that I get the bling of glitter without all the mess.
My plan was to make two silver and two red so I can put each of our names on them. Just for shits and giggles I thought I'd try mixing the two together so Boyfriend could have a
Coug
ornament (his love for his alma mater is
insane
. I've never met anyone who loves WSU that much.) And I am
IN. LOVE.
Luckily, I had five ornaments I hadn't glittered yet so they all got the mixed treatment.
Since I mixed the wax and glitter in the ornament together, I wasn't able to pour the excess glitter back into the bottle, but I'm going back tonight to get more ornaments so I'll do that next time instead.
My next step is to use my Silhouette and cut our names out using different fonts so they're personalized just for us. It's going to take quite a bit of restraint not to make a million personalized ornaments for our tree.
This whole process took me maybe 45 minutes. So easy and so cute!
Linking up!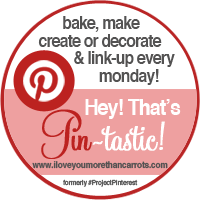 Vote Daily!