I'm in a slump. Outside of the Bambinos, my life has been consumed by work. I love the Bambinos, and could talk about them all day, but I won't, so you have to settle for So What Wednesday!
So What
if I'm happy it's finally fall season although we haven't had great weather all summer anyway. I still feel like I shouldn't be wearing my cute boots during the summer.
So What
if I'd rather play with the Bambinos than do anything else. If I could get paid to play with them all day I would. I'd even turn down plans with my friends to play with them.
So What
if I'm super bummed we can't attend a wedding this weekend. It's in Costa Rica, I would kill to be there!
So What
if I'm happy we're not attending the wedding only because I can avoid putting on a swimsuit.
So What
if I kind of wish I could still buy school supplies. I haven't bought them in ten years but there's something so fun and satisfying about school supplies...I especially like markers.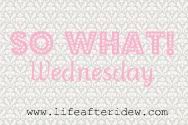 What are you saying So What to?