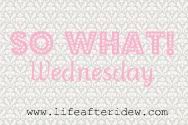 It's So What Wednesday!
So what
if I've only done The Shred twice but I already look for subtle differences in my body.
So what
if I'm trying to eat healthy but consider banana chips & Nutella a healthy snack.
So what
if part of the reason I love So What Wednesday is because I don't have to bother with pictures.
So what
if I wish I knew Photoshop better so I could Photoshop all the pics that go on my blog
- especially the ones of me.
So what if I'm determined to get breast implants before I get married. Nursing twins is wrecking mine!
What do you say So What to?