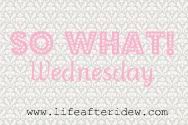 It's So What Wednesday!
So what if I became prefered member at Lovers last week just so I could get what I needed half off.
I had to get something for an event at work the next day and the gift card my boss gave me wouldn't have covered it otherwise.
So what if I was completely freaked out by the hot pink peens surrounding me in the store
They we're like 10inches!
So what
if I'm
still
making fun of my co-worker because he thought a pocket rocket was an insect.
So what
if I drug Boyfriend to Whole Foods last night just so we could buy brown rice, avocados and peas.
I want the Bambino's first baby food to be as healthy as possible.
So what if Boyfriend snuck a toffee bar into the cart and I've almost eaten the whole thing.
So what if I washed and dried all the parts of my Baby Bullet even though I don't plan on using it until this weekend.
I'm super excited to use it.
Don't forget about the
Book Swap!
I really hope you join us!